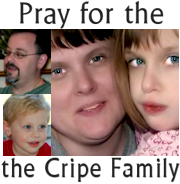 There is a family who needs our prayers and our help:
The mother has stage 4 cancer and has been told she will not live until Christmas. She has two small children - one is a 7 year old girl with special needs. The husband and son also have medical issues.
They need first our prayers but there are also some tangible ways you can help if you feel led.
Please go here and read all about it:
http://lynnettekraft.blogspot.com/2009/10/bear-ye-one-anothers-burdens-cripe.html
Thank you!