Let me give some GREAT news for this Friday - we already have THREE praises on the prayer blog. That's right - 3 of the girls you have been praying over are pregnant! I put them at the bottom in red! God is good and I am expecting to put a big fat PRAISE by each and every name on that list - keep praying!


This sweet girl, Jenni, who reads my blog sent me this precious stool this week to use in Harper's bathroom. She is going to be brushing her teeth and brushing her hair in style!!! Isn't it sooooo neat?? Jenni - I can't thank you enough!

She also had this rocking chair made for me. It has the words to "Jesus Loves Me" on the seat. Isn't this the most precious thing EVER? I can just picture Harper sitting in this and reading books in her room as she grows. Oh I Love it. I'm excited because Jenni wasn't totally sure how to ship this and I figured out she doesn't live all that far from me - so I'm hoping we can meet (maybe after Harper comes) and have lunch and I can pick it up from her. It would be so much better to meet her in person! It completely blows me away that someone would do this for me.
Jenni had her friend at www.allisonrosedesigns.com make these. You can check her out here.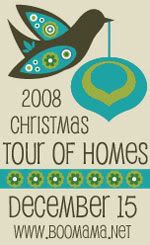 I'm putting up our one little Christmas tree this weekend. I love decking out our entire house for christmas and it gets bigger and bigger every year - but I am just going to do one little tree and a wreath this year and that's it. I love Christmas so much!!!! I have to do it this weekend or it might not happen at all. I hope you all have enjoyed Boomama's tour the last few years - it's one of my favorite things. I plan to join in - little Charlie Brown tree and all. I'm just giving my little plug for her - it will be here in 24 days!
When will you decorate for Christmas?