I'm sure you are wondering and I'll just tell you - NO - I do not have a Christmas outfit for every day of December - but it's close. Almost all of her outfits were gifts and several like the one she is wearing today belonged to a sweet little girl named Alexee. She is a year older than Harper and her mom, Jamie, let me borrow several things for this season. And I'm loving them!!!

We just don't have enough places to wear all of our cute things. Today we went to Target and ran a few other errands. It was good to get out but it was so cold. Running around with a baby in the winter is not as fun or as easy as the summer. Having to keep them bundled up and trying to fit that in the car seat is a mess. But we still enjoy a few outings!

I thought I would share our Christmas card with you now that I have sent them out. I love it SOOOO much! This is the front! In case you can't read the verse at the top - it says "He has done great things for us and we are filled with Joy" Psalm 126:3. I can't think of a verse that better describes this past year for our family.

And this is the back. This sweet and beautiful girl came to visit us in the hospital in Tulsa and she made Harper the most amazing note cards. I still haven't used them and I don't know if I will ever be able to. She is just precious and I was so thankful to have her make our cards. She is also an amazing photographer. You can check her out at www.amy-dale.com. And she is pregnant and I'm so happy for her!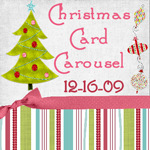 One of my first sweet blog friends, Faith, is hosting a Christmas Card Carousel on Tuesday. I'm going to be linking up to share my card and you should too! Christmas cards are my ABSOLUTE favorite thing about Christmas. I seriously run to the mailbox every day and I love opening all the cards and seeing all of my friends. I save all the cards I get in a photo album year after year. I love to look back and see how families have changed and grown.
I love all the technology we have and the e-mail, blogs, facebook and twitter but there is nothing I love as much as good old fashioned snail mail. I just wish my mailbox was as fun to open all year as it is in December.
P.S. If I had all the money in the world - I would send a Christmas card to every one of you who read my blog! I can't thank you enough for all the kind comments, prayers, suggestions, advice and ideas that you give me! So pretend this is in your mailbox from me to you. (Cause even if I had all the money in the world - I would not spend it on Christmas cards and stamps - I would support every single
Compassion child
that needed a sponsor and give Christmas gifts to every single child in the world who won't get any).